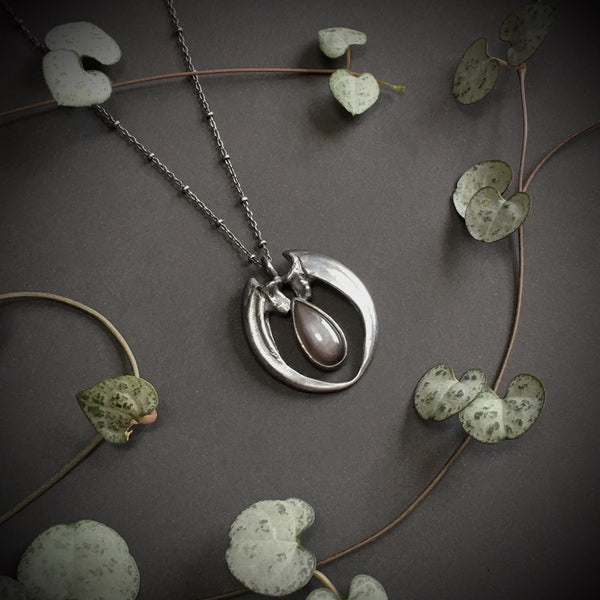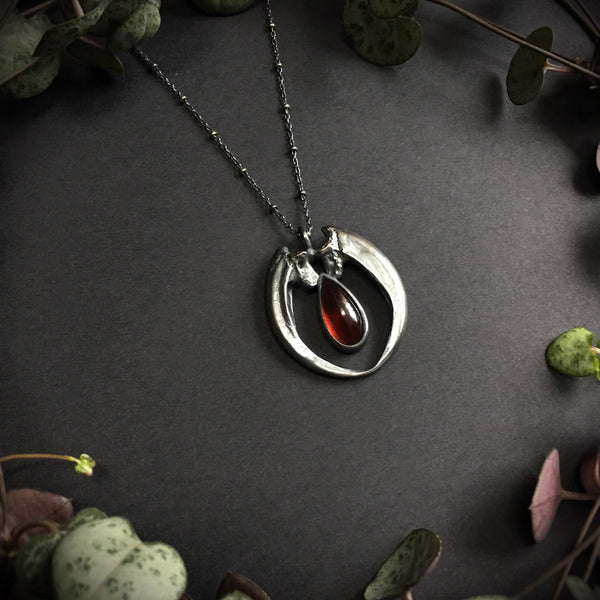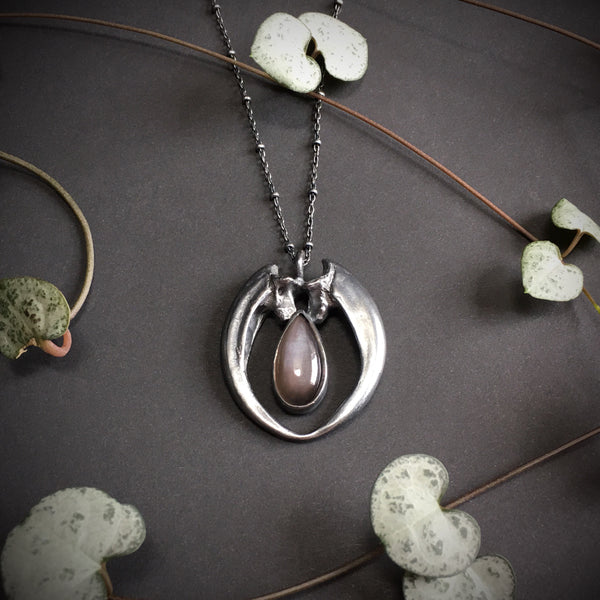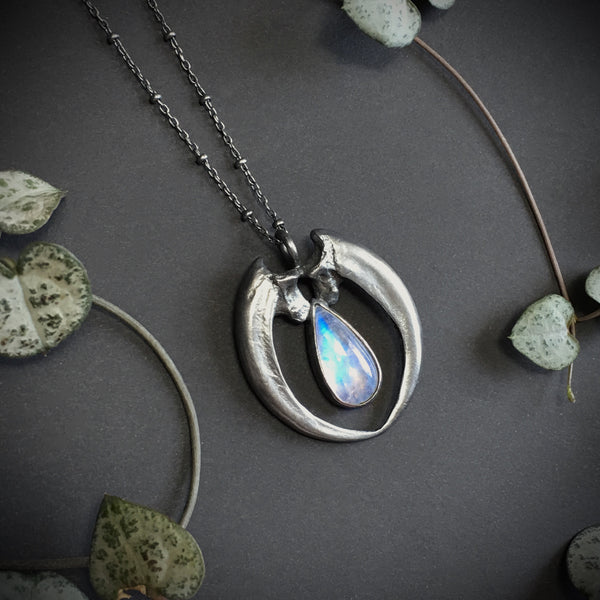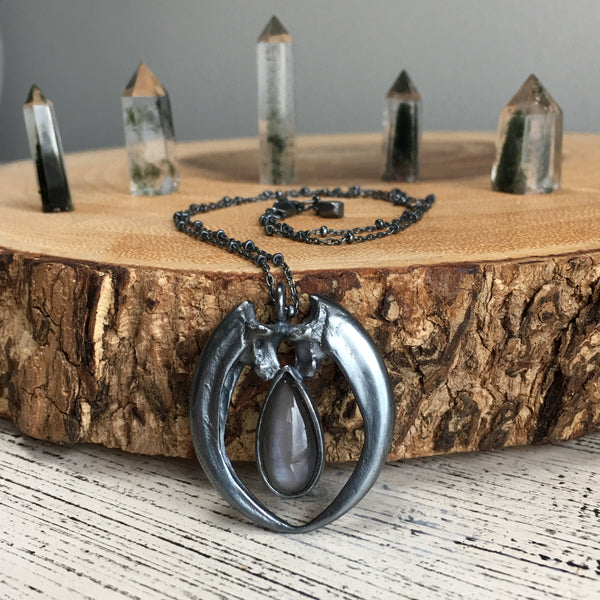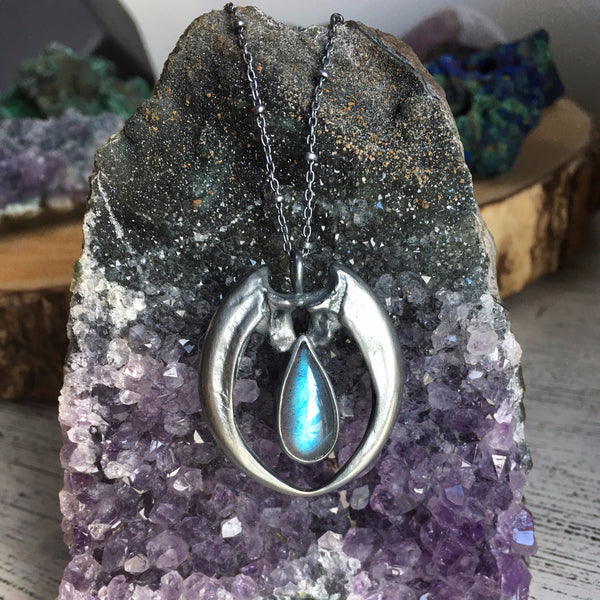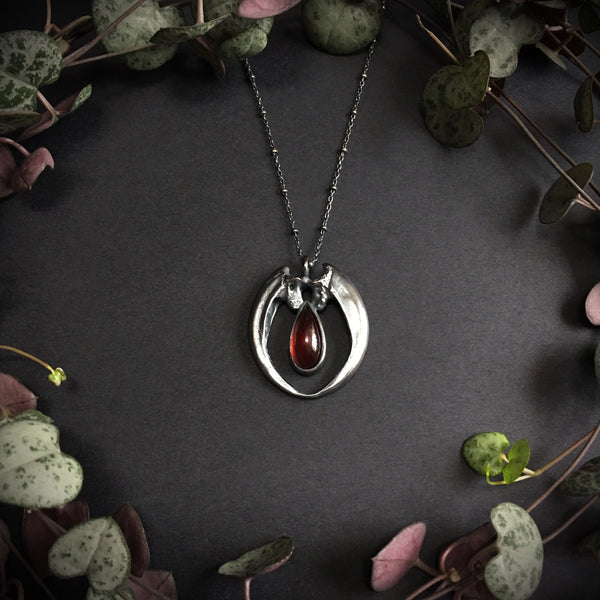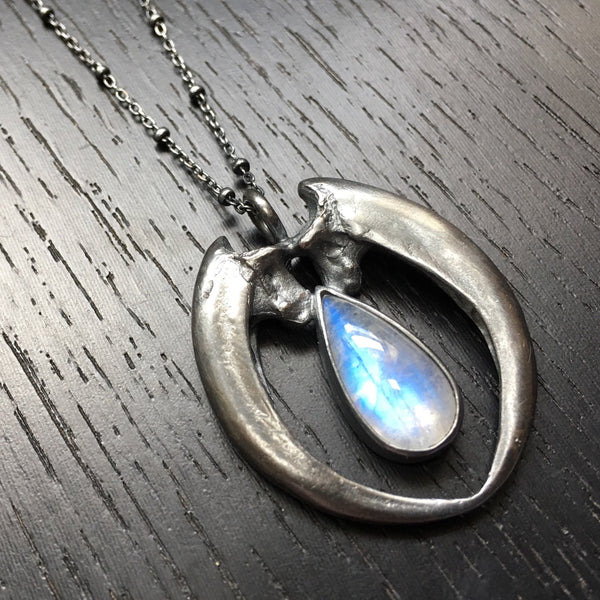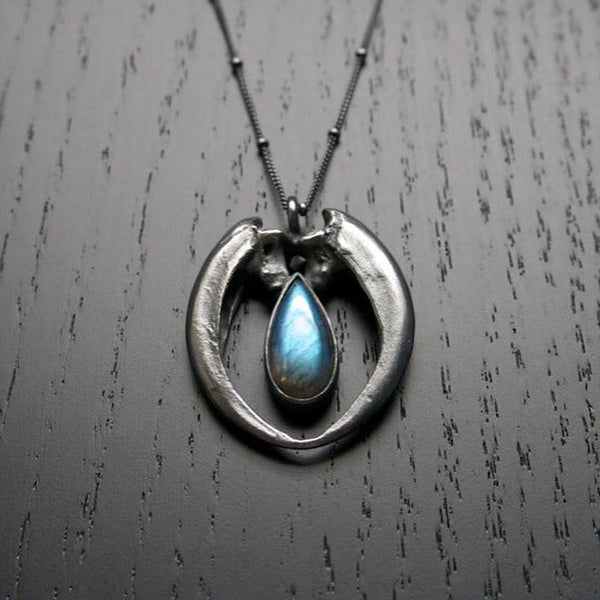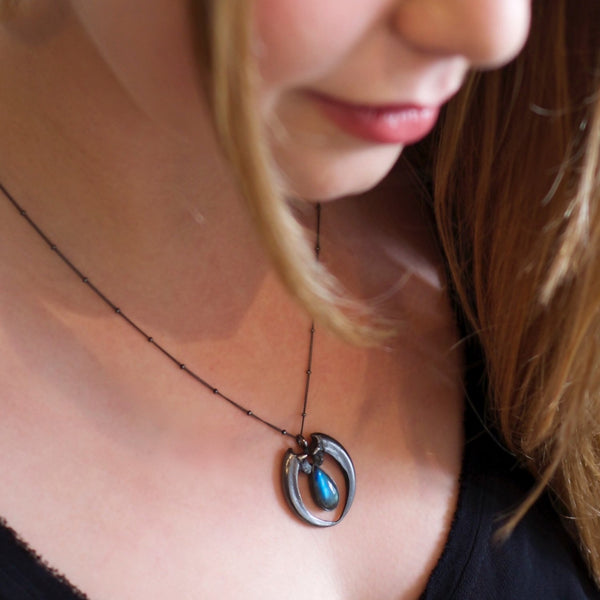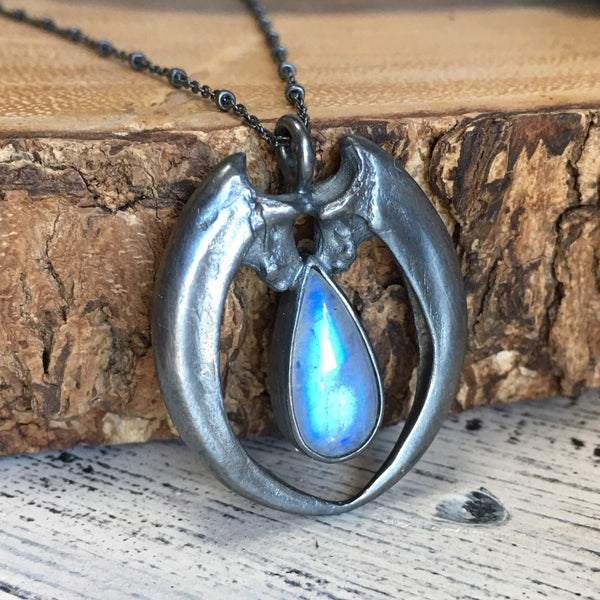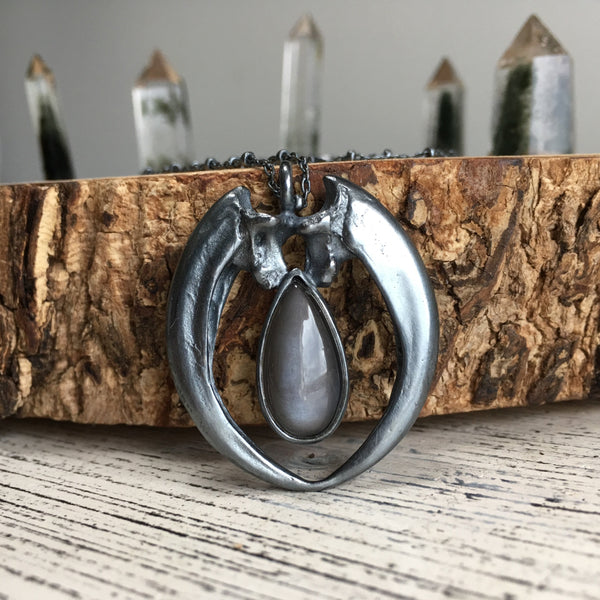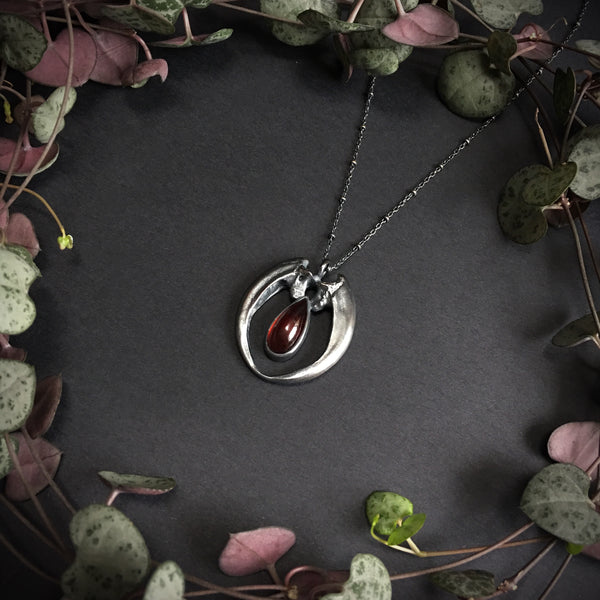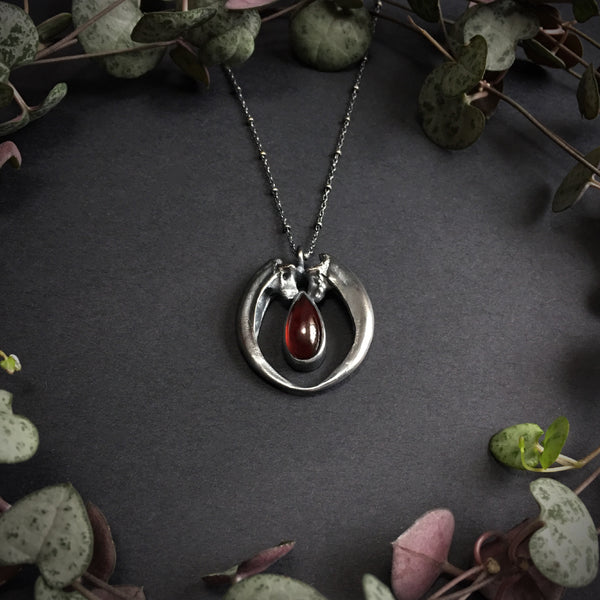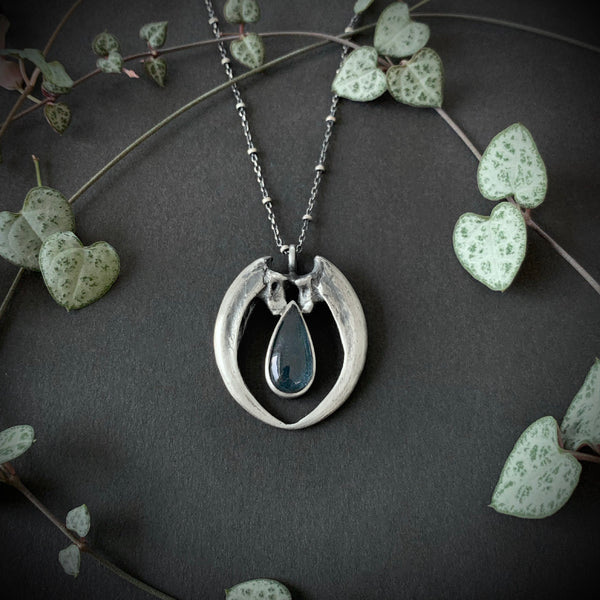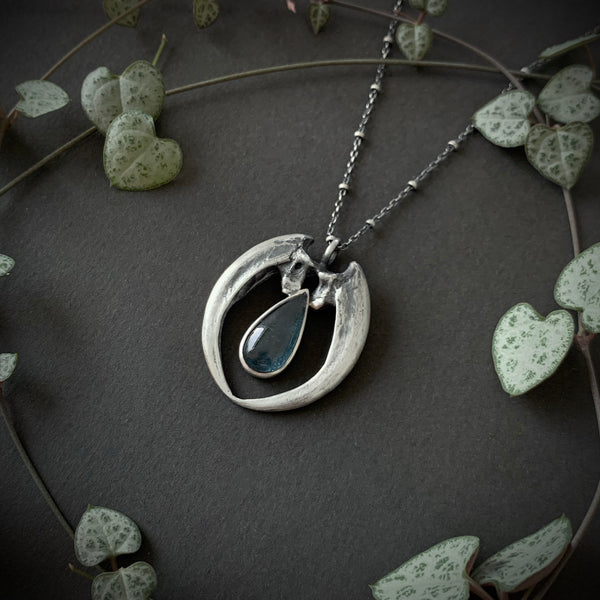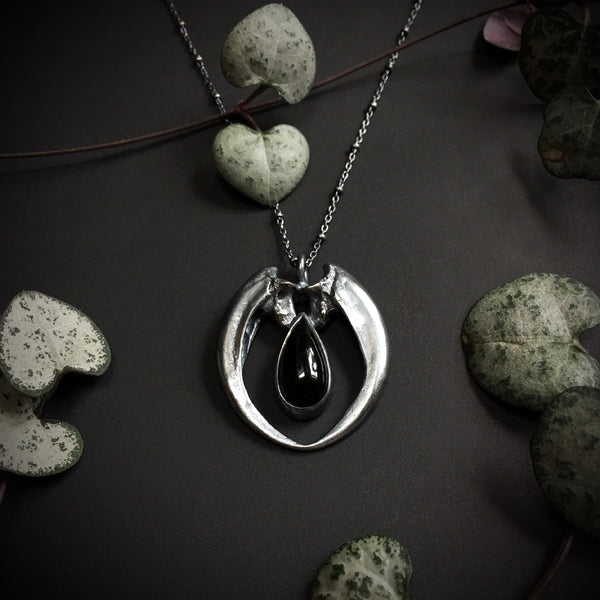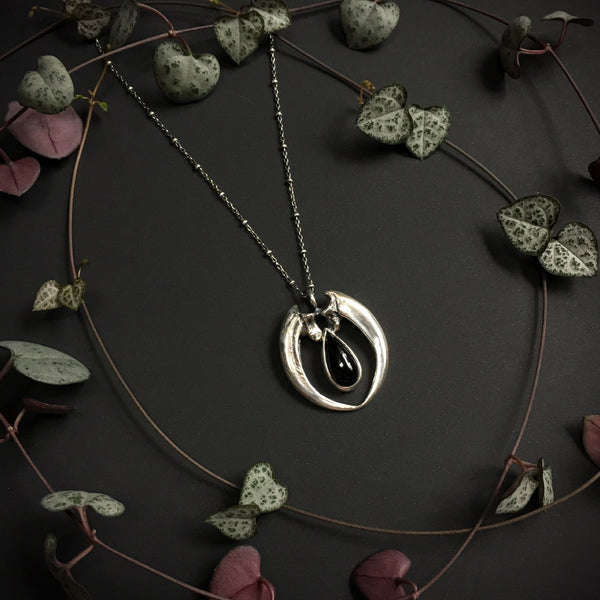 LSD Jewellery
Harpies Tear Pendant
This Pendant features a beautiful High Quality teardrop (either moonstone, Dark grey moonstone, Onyx, Moss Aquamarine, Hessonite Garnet or labradorite) set in in between two Sterling Silver Raven Talons. The silver has been blackened to a deep oil slick grey in the photos but you can have a antique matte or antique polished finish instead if you prefer.
The Pendant measures 3.3cm tall and 2.8cm wide. It hangs on a beaded fine chain - length your preference.
I named this piece after the mythical Creature - the Harpy. The Harpy were female monsters in the form of birds with human faces, together known as the Harpies. They steal food from their victims while they are eating and carry evildoers (especially those who have killed their family) to the Erinyes. They seem originally to have been wind spirits. Their name means "snatchers" 
Each gemstone has its own personality so looks slightly different - if you have a colour preference or would like to see photos of the stones I have available please write in the comments box when checking out and I will do my best to accommodate you. 
As this is made to order please allow 1-3 weeks for production.
Beautiful Jewelry! Very happy customer. :)
I treated myself and purchased two necklaces (Harpies Tear and Hexen) from LSD and I am so elated with them both! Unique, beautiful designs, and very well made. Charlotte's pieces truly embody magic and strength. My new favorite talismans! Thank you. <3
Delicious
There is a reason why I keep coming back to her. The quality of them is above and beyond. Even though I know it's not the same necklace as pictured, it looks just like it. This is my third purchase from her. My first two were custom orders. If you need something awesome in your life, look no further. This is the person who can make that happen. I recommend the shipping with courrier to be on the safe side. It took 2 weeks to get to the US and I had no issues with it. Her pieces are worth the wait.
Stunning!
This piece is absolutely beautiful! Everything about this pendant is amazing. Very well done! Thank you so much again!!!! 😍💜💙
Absolutely awesome!
Absolutely awesome! I love the color of the labradorite ....It is wicked!
Well made and well received :)
Well made and well received :)