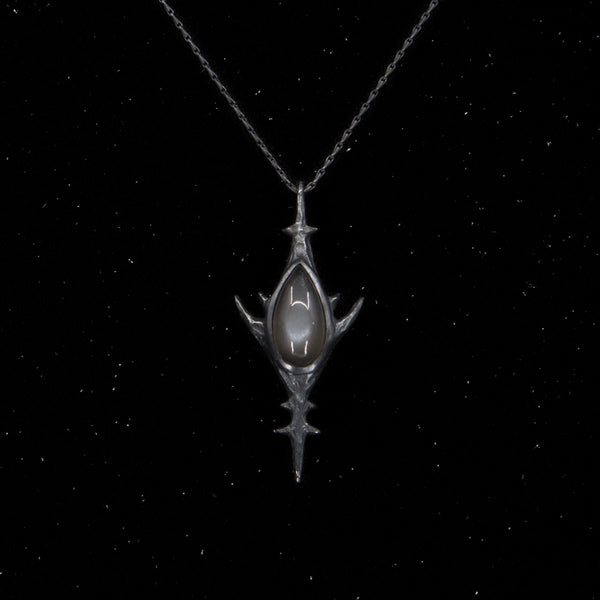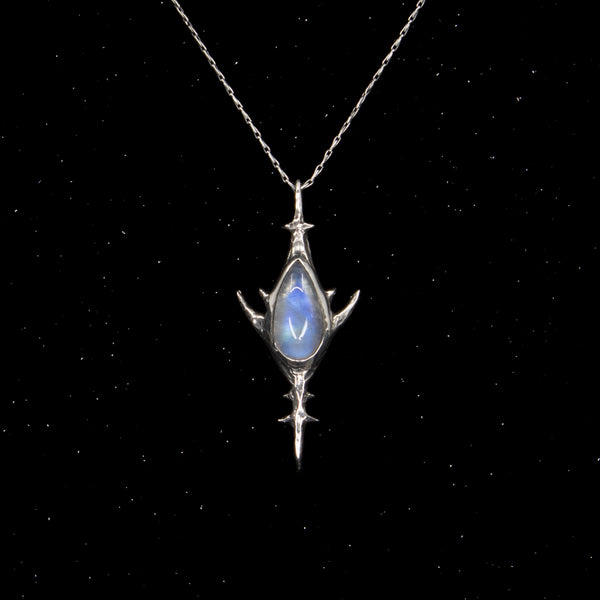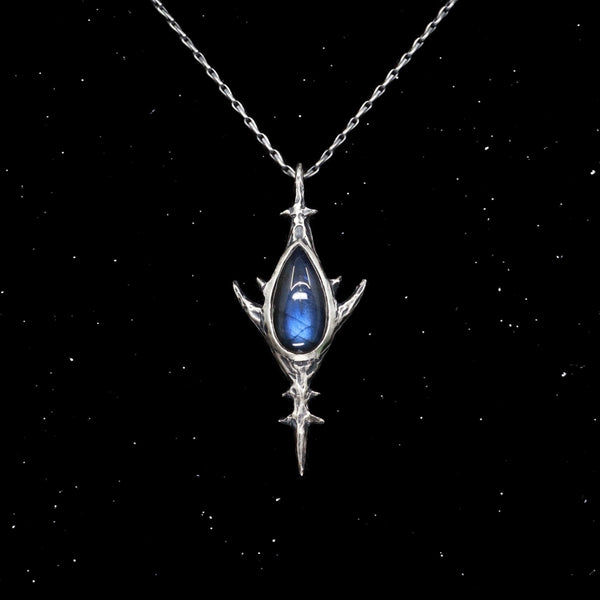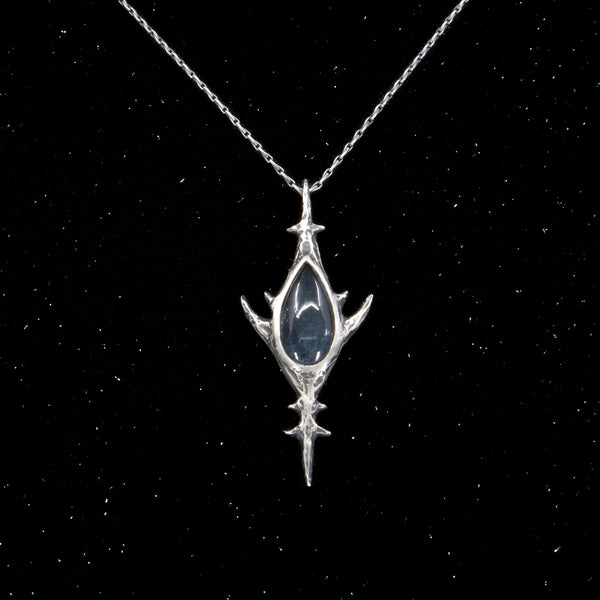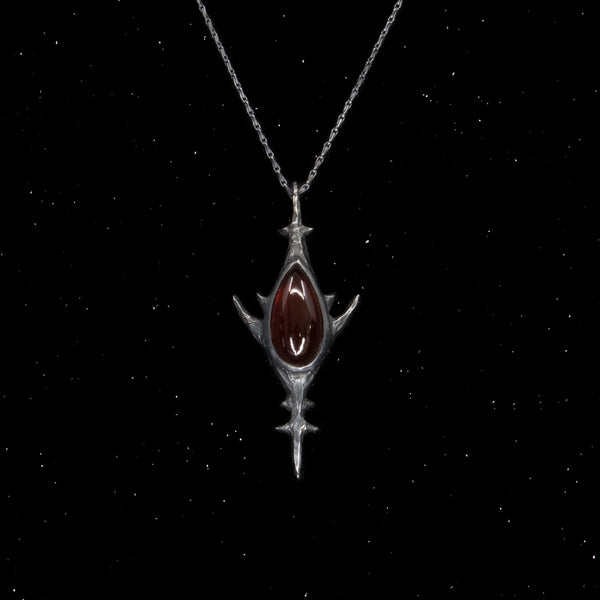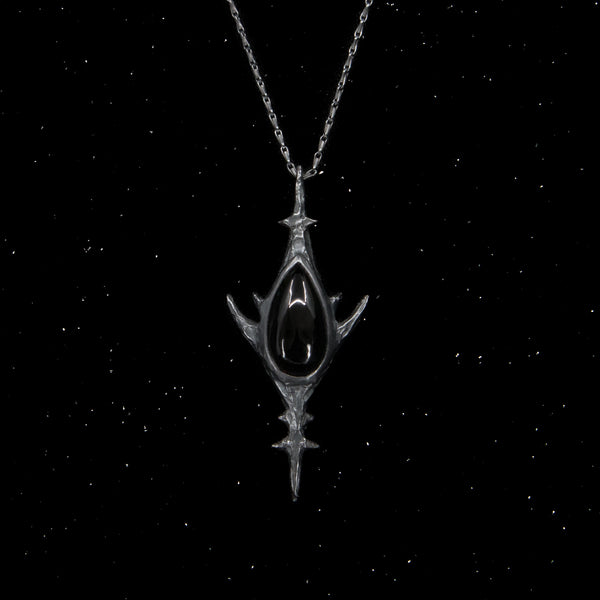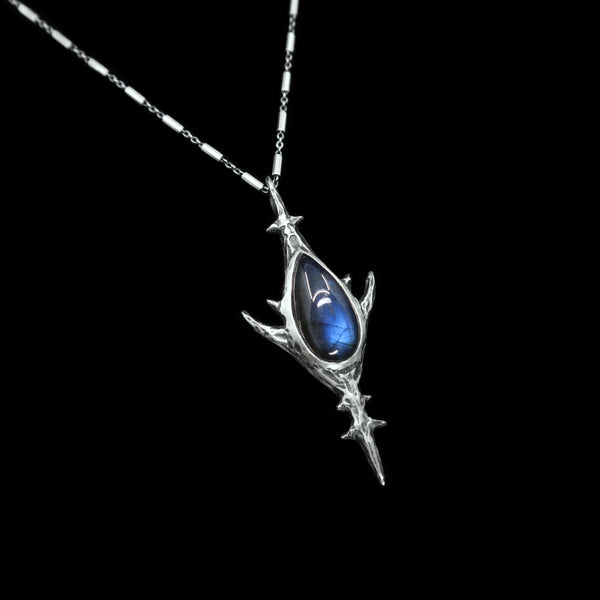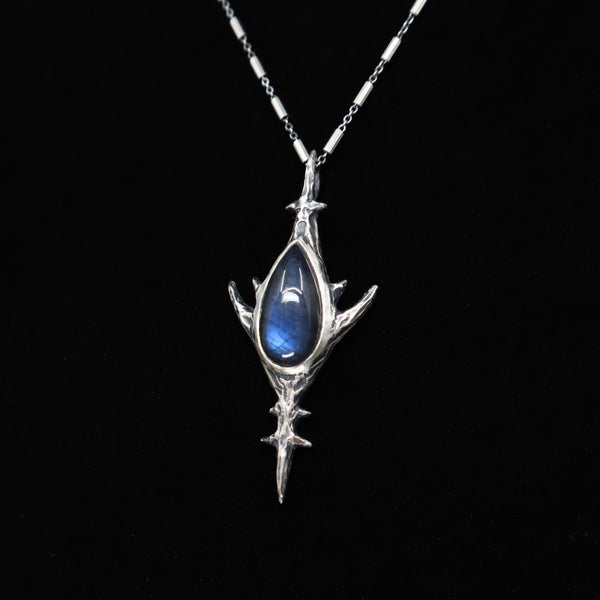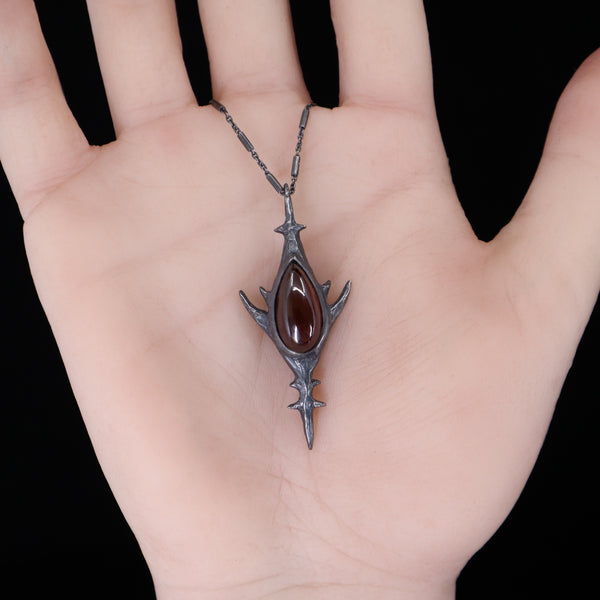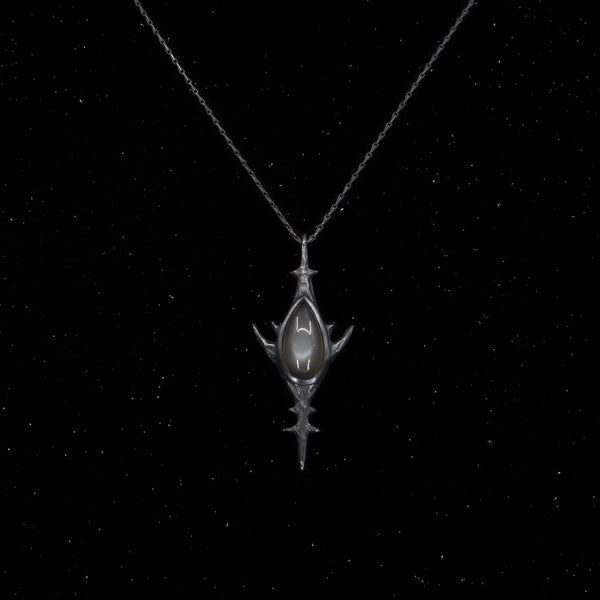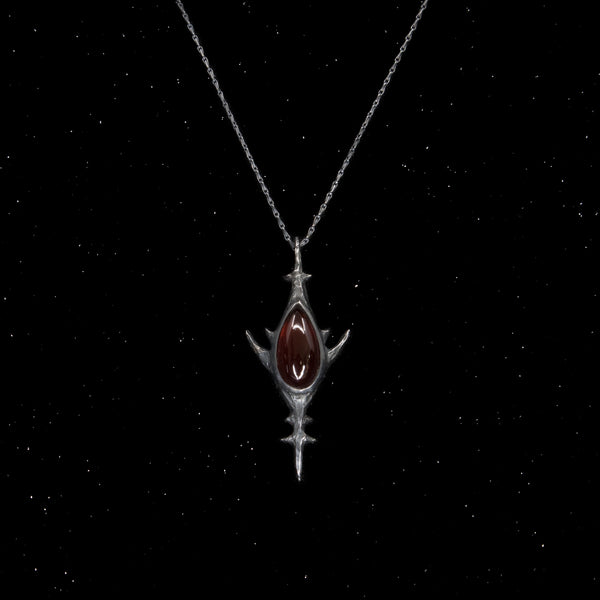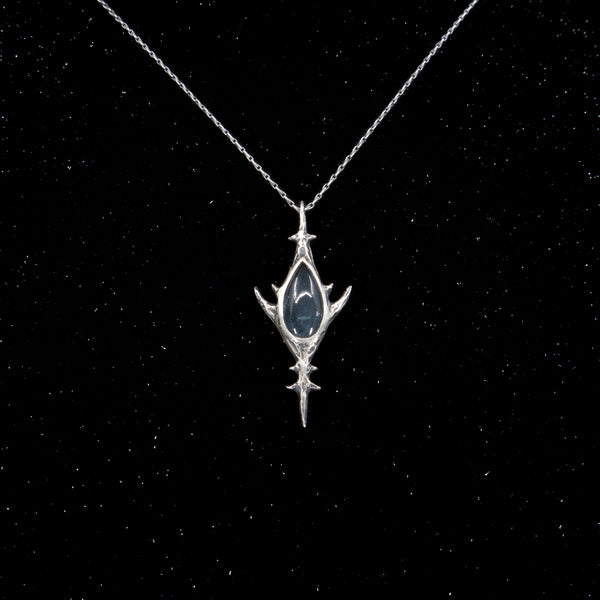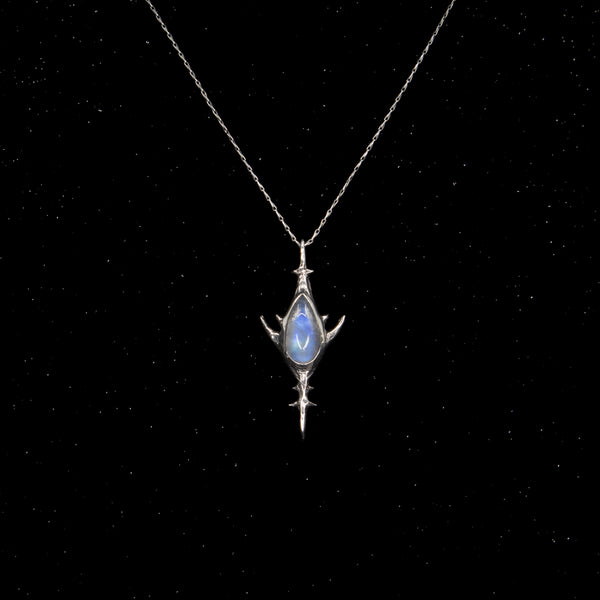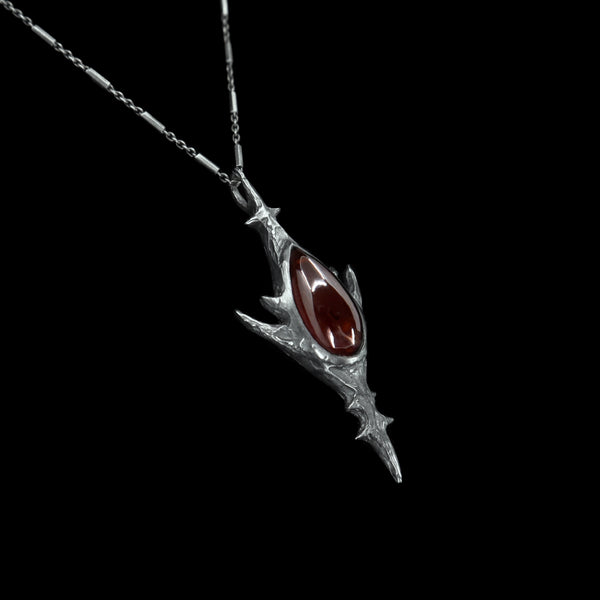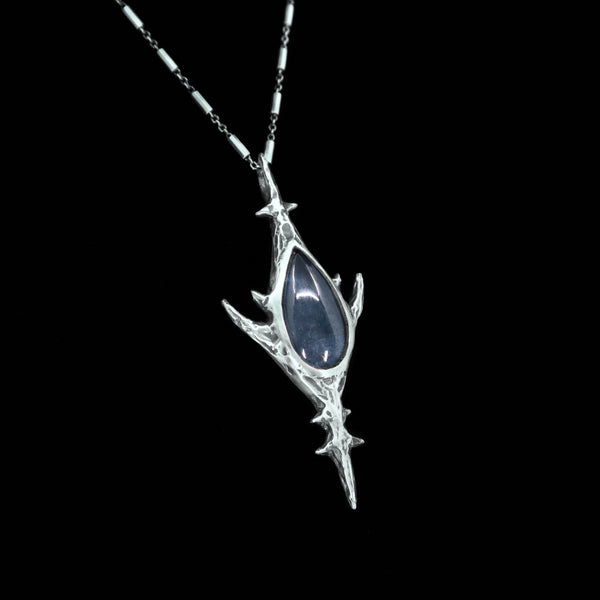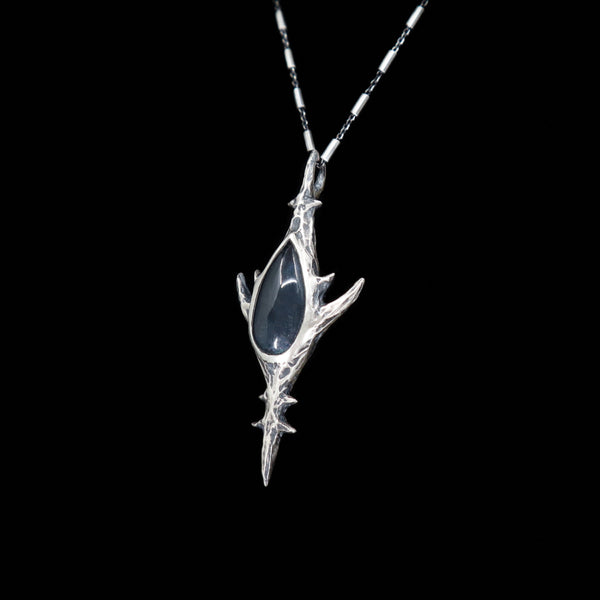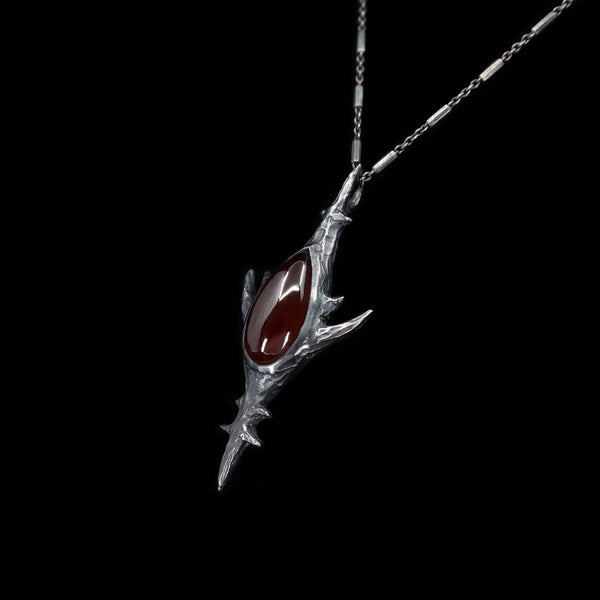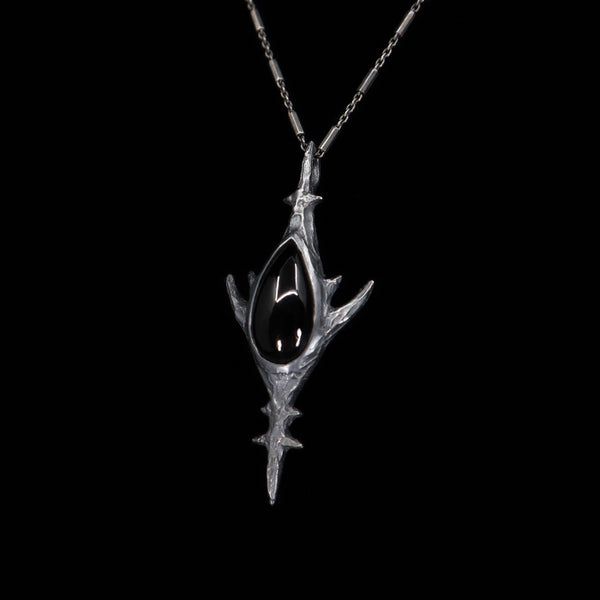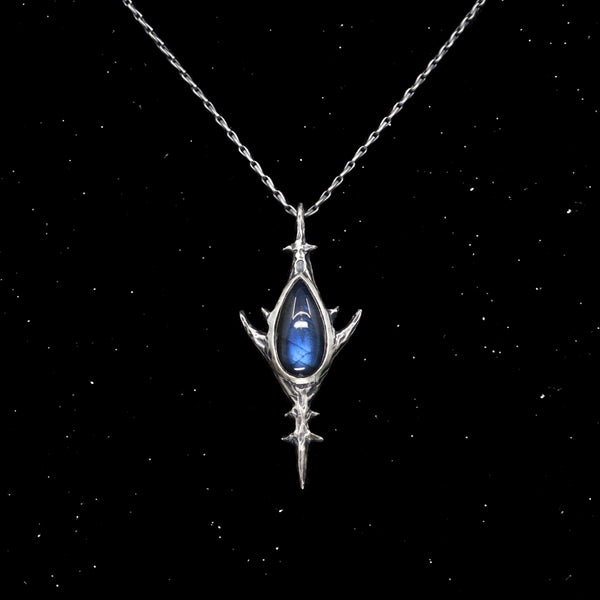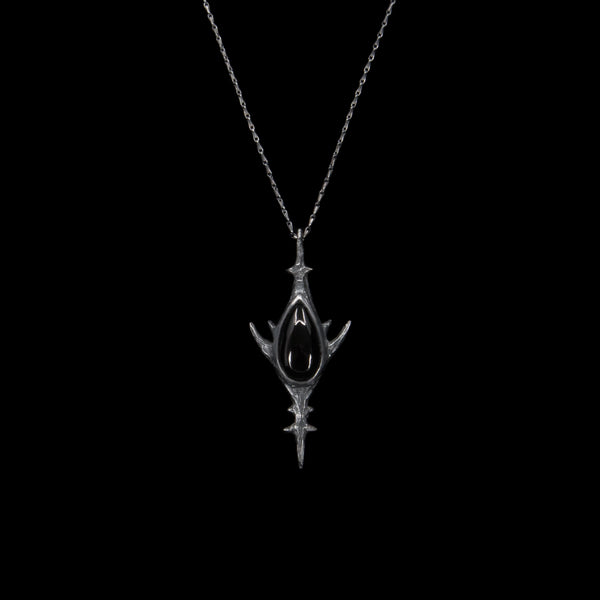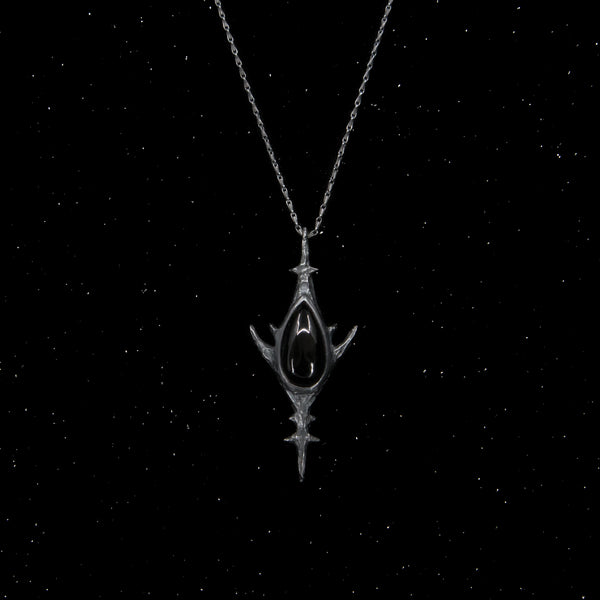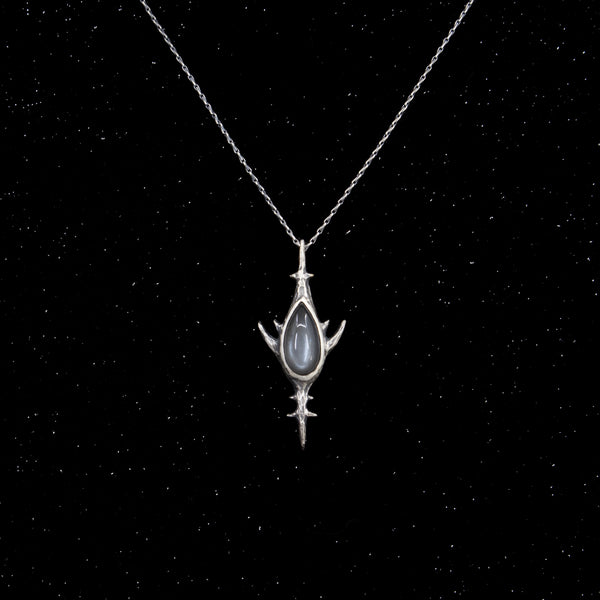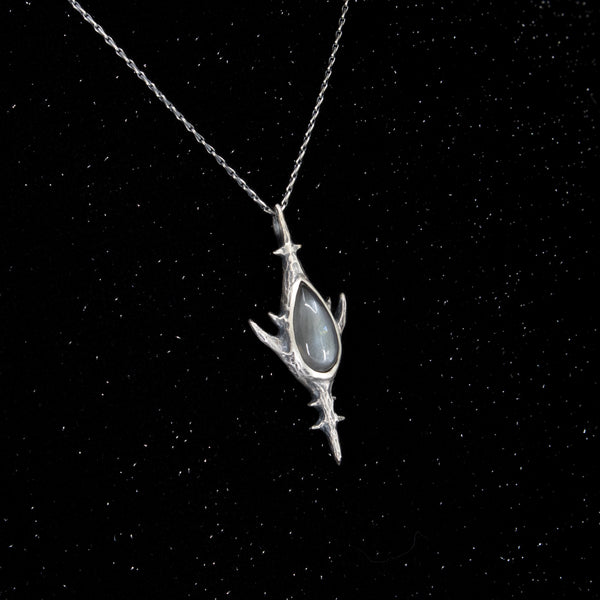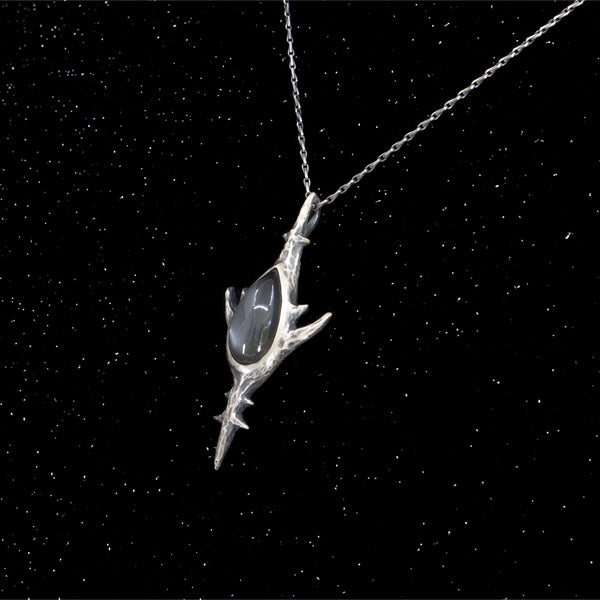 LSD Jewellery
Dagon Pendant
This Eldritch pendant is inspired by the wonderful Props from the HP Lovecraft inspired movie 'Dagon'.
It is hand carved in wax and cast in Sterling silver, with a unique and dark pointed design. Set inside is a teardrop shaped gemstone cabochon. It reminds me of a ship wrecked talisman from a parallel universe.
The pendant measures 1 3/4 inches (5cm) long. It comes on a unique barley chain (pictures with the stars in the background, the other chain is also available if you prefer that just let me know in the comments when checking out),
it can have either a Oxidised, antique Matte or antique polished finish. You can choose from either Garnet, Onyx, Moonstone, Labradorite (blue or aqua), Grey moonstone or Moss Aquamarine.
Enigmatic Elegance and Exquisite Craftsmanship!
I recently acquired the Dagon Pendant from LSD Jewellery and it has left me in awe! This pendant isn't just a piece of jewelry, it's a profound work of art! Its design effortlessly intertwines superb craftsmanship with enigmatic beauty, creating a touch of mystique!
The meticulous detail in the pendant's design is awe-inspiring, a testament to the artisan's dedication and passion. The antique matte finish casts an enchanting and mysterious spell, perfectly encapsulating the essence of the gothic style!!
A notable highlight is the Labradorite gemstone, a gem that defies description! It's colors shift from deep blues to ethereal greens with hints of purples, bestowing an aura of enchantment upon the pendant! This gemstone, like a bewitching enigma, captures and plays with the light, leaving an indelible mark!
I must mention that the chain accompanying the pendant met an untimely end shortly after its arrival. I promptly communicated with Charlotte, expressing my wish to add a replacement chain to an existing order for the Black Death Earrings, to circumvent unnecessary shipping costs.
Charlotte's response was nothing short of exceptional! She replied with remarkable swiftness, even on what would have been a Saturday in NZ. Her generosity shone as she presented four distinct chain options, each a work of art in itself. They are the perfect complement to the Dagon Pendant! I'm immensely grateful for her prompt communication and her unwavering commitment to addressing any issues that arose.
Among these options, the chain shown in the picture, truly stands out. It boasts the ability to be adjusted to 22', transforming it into an ideal match for the pendant and further intensifying its allure.
What truly sets LSD Jewellery apart is their ability to craft pieces that resonate with admirers of gothic and dark aesthetics while exuding a sense of elegance and beauty! Wearing this pendant brings me immense humility, as it seamlessly harmonizes with my passion for enigmatic and mysterious jewelry!
I couldn't be more thrilled with my acquisition! Compliments on this unique and captivating piece have flowed in, and my adoration for Charlotte's creations knows no bounds! Multiple pieces from her collection now grace my collection! It's worth noting that Charlotte custom crafts most of her pieces, and her remarkable communication has ensured any issues were resolved with utmost care.
Furthermore, the included image of the Dagon Pendant showcases its enigmatic elegance, side by side with the Black Death Pendant, another masterwork from Charlotte! Together, they craft an atmosphere of darkness and mystery that perfectly captures the essence of the gothic allure!
In summation, the Dagon Pendant is a testament to the exceptional talents of the artisans at LSD Jewellery! It's not just a piece of jewelry: it's a narrative waiting to be unraveled. If you admire unique, masterfully crafted jewelry with a dark and mysterious allure, this pendant receives my whole hearted recommendation!
Thank you, Charlotte and all at LSD Jewellery, for introducing a touch of enigmatic elegance into my daily lowly existence! <3 <3 <3