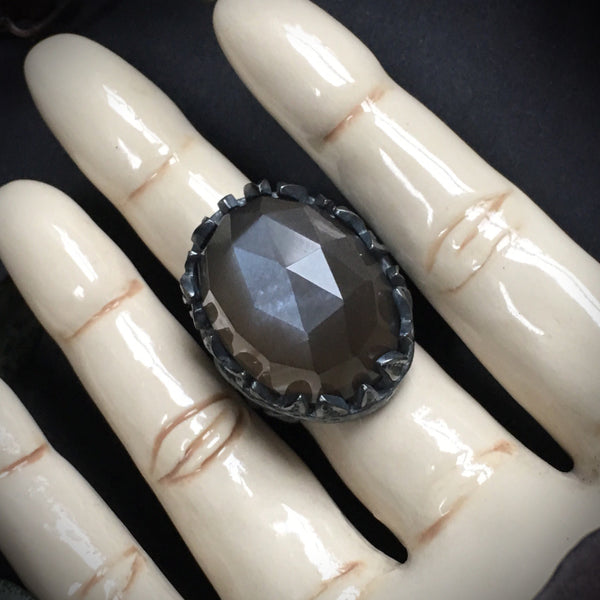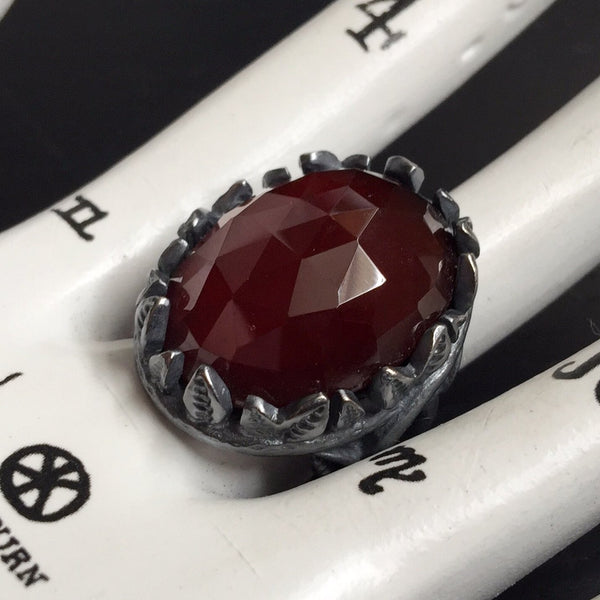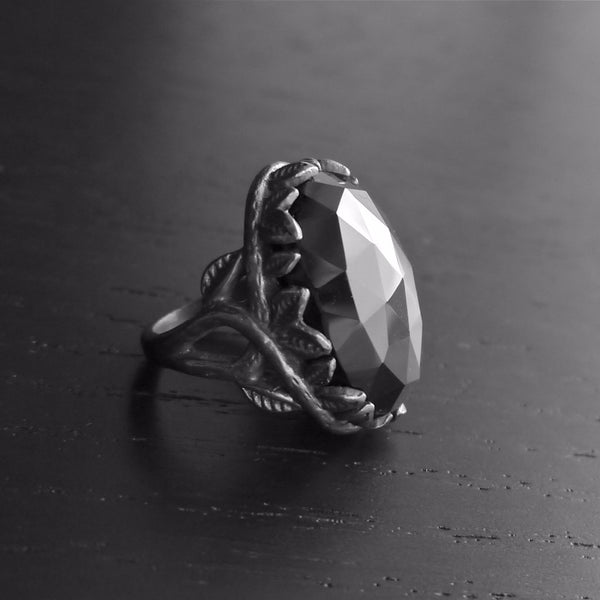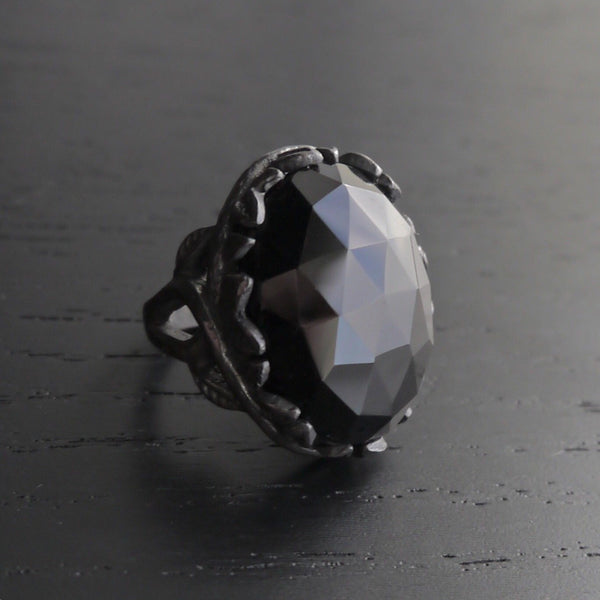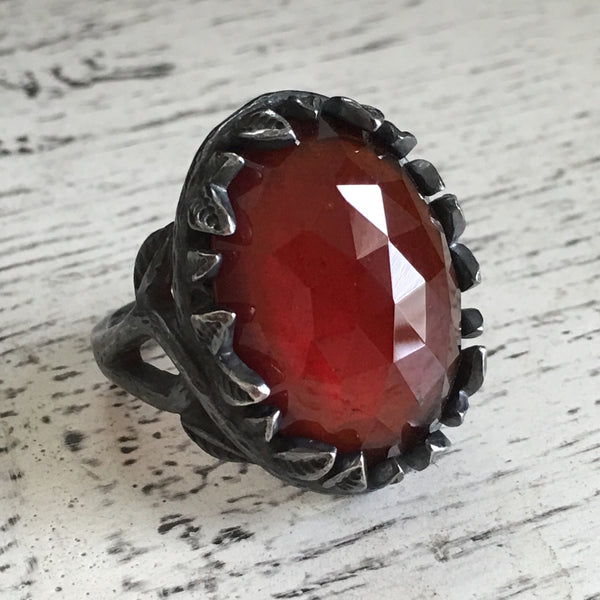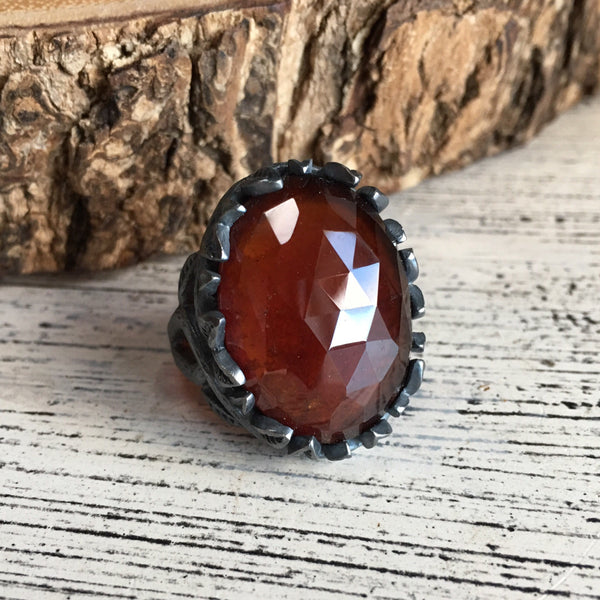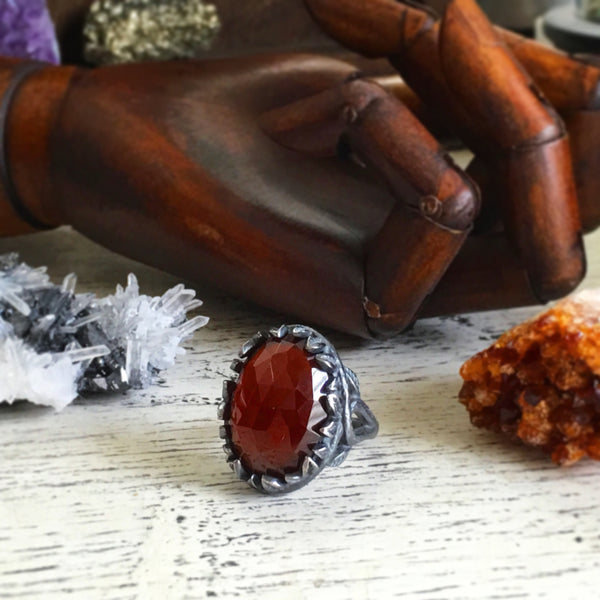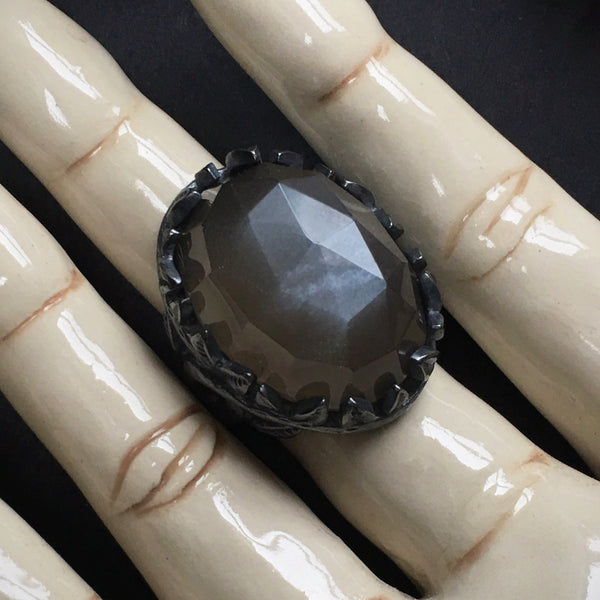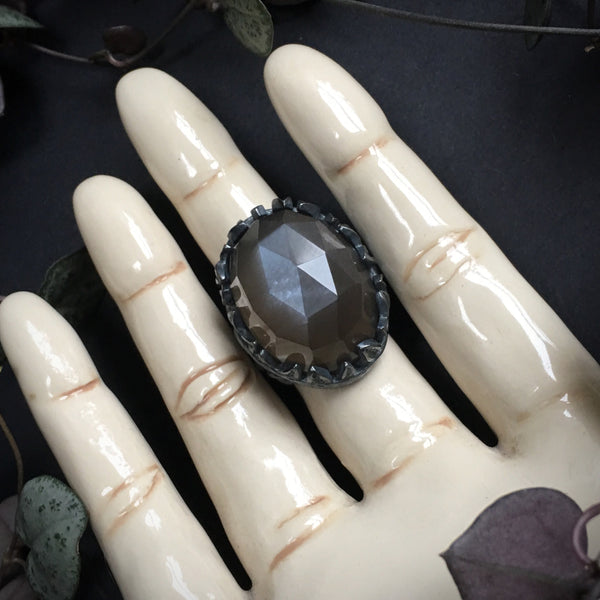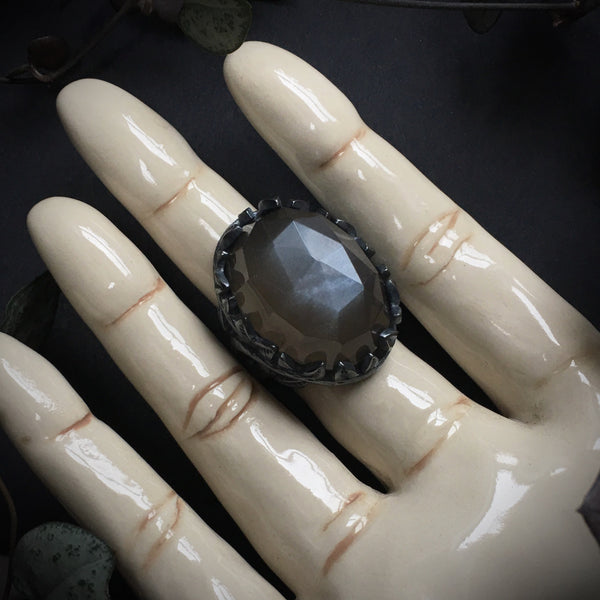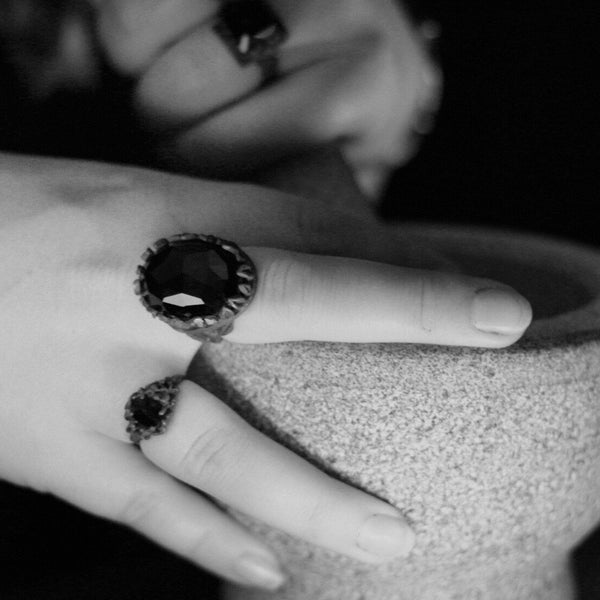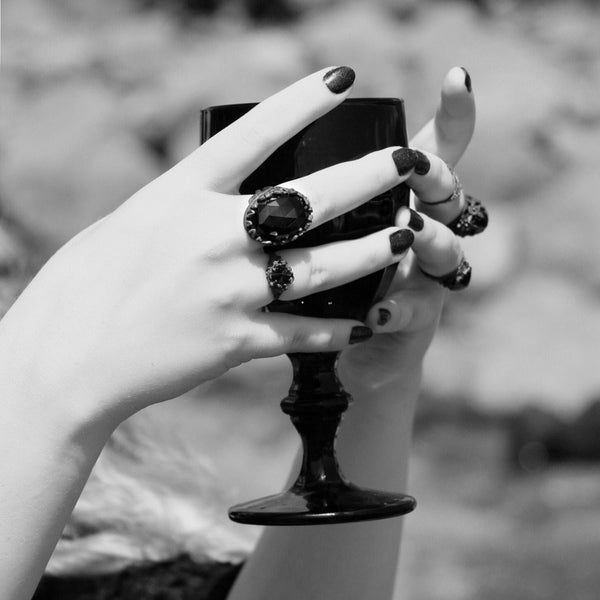 LSD Jewellery
Croatoan Ring
This ring inspired by the Croatoan Mystery (Read below). It is almost a victorian mourning inspired tribute to the lost souls of Roanoke Island. It is part of my "Killing Moon" Collection.

It features a beautiful rose cut gemstone (Onyx, Hessonite garnet or Grey/black Moonstone) set in re-worked vintage sterling silver vine entwined setting. It is large and cocktail size but so elegant and eerie. The sterling silver setting comes in a fully oxidised finish, but i am happy to do it in an antique matte or antique polished finish (Just leave a note in the comments box when checking out.

The ring is 3.7cm long, 2.2cm wide and 1cm tall. 
Croatoan Mystery:

~~~~~~~~~~~

In 1587, the English, led by John White and financed by Sir Walter Raleigh, made their second attempt at setting up a colony on Roanoke Island, which now lies just off the coast of North Carolina in the USA. The colonists disappeared, however, during the Anglo-Spanish War, three years after the last shipment of supplies from England. The settlement is known as "The Lost Colony," and the fate of the colonists is still unknown. When Joh White returned to the island in 1590, there was no trace of anyone, the cabins had been taken down, the livestock had also disappeared. All that remained was two graves, and the word "Croatoan" carved in to a post, and "CRO" Carved in to a nearby tree. There are many Theories as to what happened to the 118 settlers. My favourite is this one: The Croatans themselves believed that the island had a spirit and, if angered, this spirit had the power to change those who offended it into the form of animals, trees and rocks. So perhaps this is the explanation – that none of the people affected really disappeared but were simply transformed.

Interesting facts: Edgar Allan Poe was brought to his death bed in a state of delirium whispering the word "Croatoan". The same word was found in other places at other times: scribbled in the journal of Amelia Earhart after her disappearance in 1937, carved into the post of the last bed that the celebrated horror author Ambrose Bierce slept in before he vanished in Mexico in 1913, scratched on the wall of the cell that the notorious stagecoach robber Black Bart inhabited before he was released from prison in 1888 never to be seen again, and, most disturbingly of all, written on the last page of the logbook of the ship Carroll A. Deering when it ran aground with no one aboard on Cape Hatteras in 1921 (not that far from what was once known as Croatoan Island)

~~~~~~~~~~~
It sparks joy ❤️
Love it. Probably one of my favorite pieces of jewelry I own and I am a bit of jewelry junkie. It's big but comfortable. It's actually more substantial than I imagined. Love love the leaves and all the details and the garnet is just so dark, sexy and mysterious. Already thinking about getting another from LSD. I really appreciate and enjoy the craftsmanship in this one and I am sold.
PS: It arrived relatively quickly from NZ to USA during covid and US postal service debacle/slowdown in about a month.
Love it!!!
My father actually got this for my birthday. It is beautiful, as expected. I've been wanting a piece from LSD Jewelry for along time & I finally have one!!! Yay!
second one
I love this ring, it's beautiful and comfortable. This is my second Croatoan ring. Previously, I ordered a grey moonstone one with a different finish. I also have a galactic forest ring which I love, too.
Your own wearable dark secret garden
This piece is stunning, simply put. The vines and leaves that make up the band and setting absolutely give off a Victorian mourning vibe, and the stone in its rose cut glory accentuates that really nicely. The height and size of the setting/stone is perfect as well. In love.
Stunning
Beautiful quality, and completely magical!