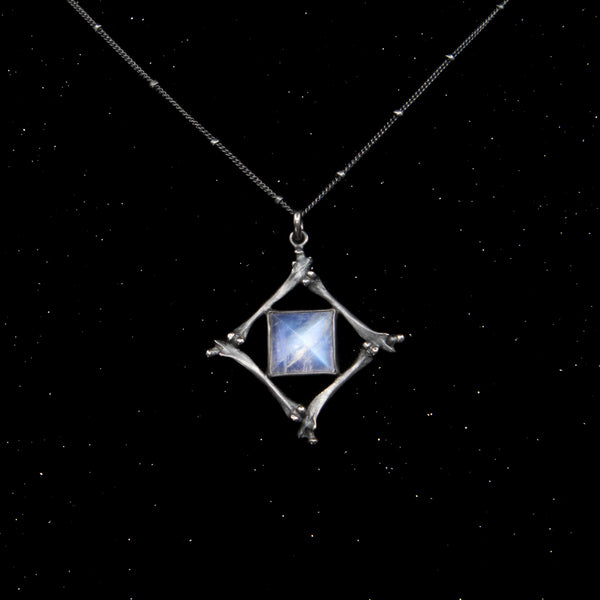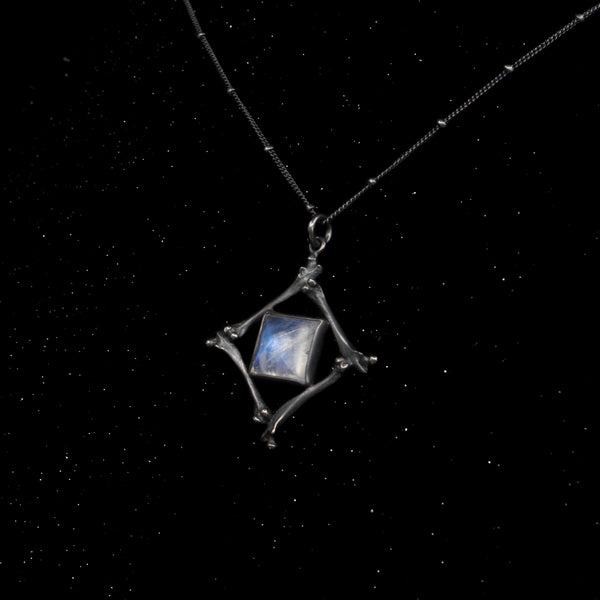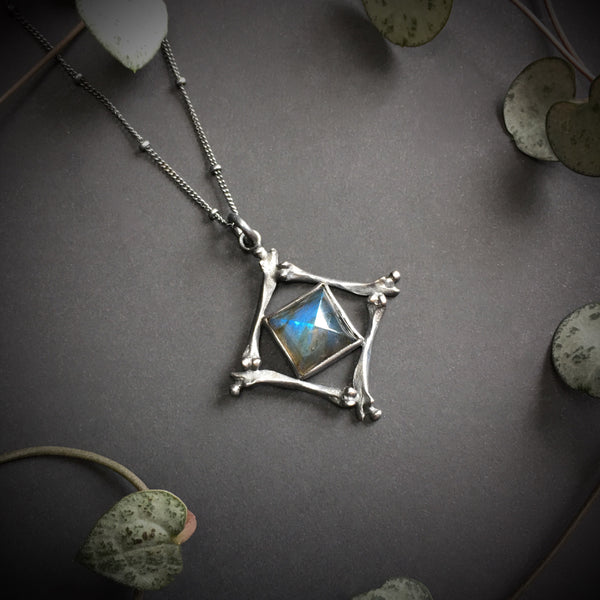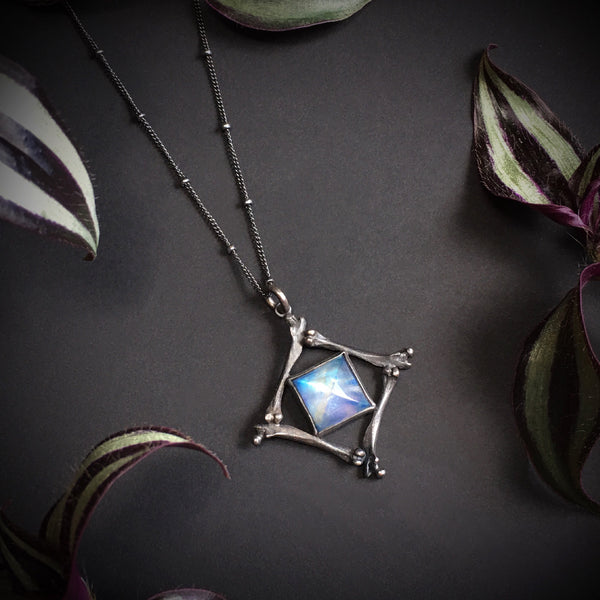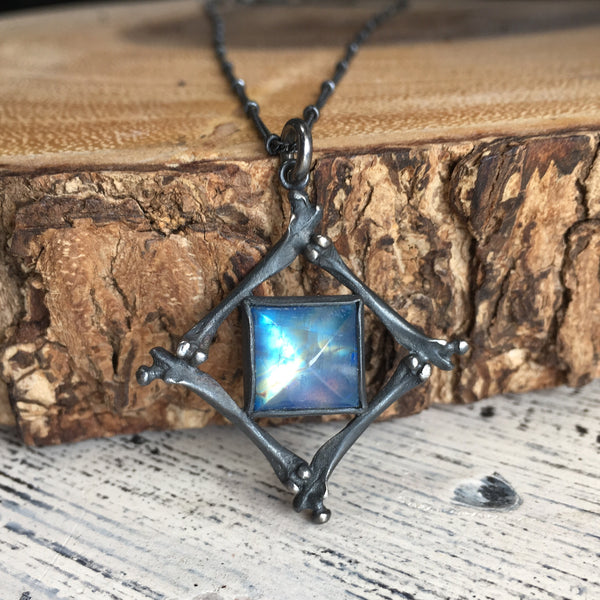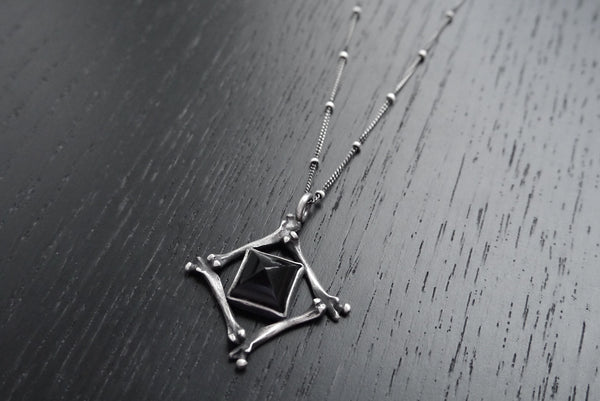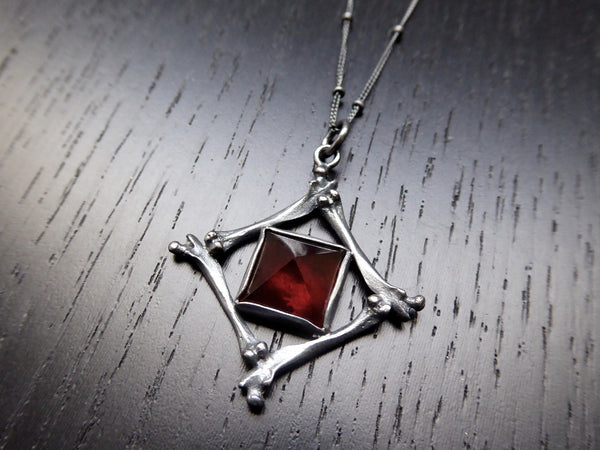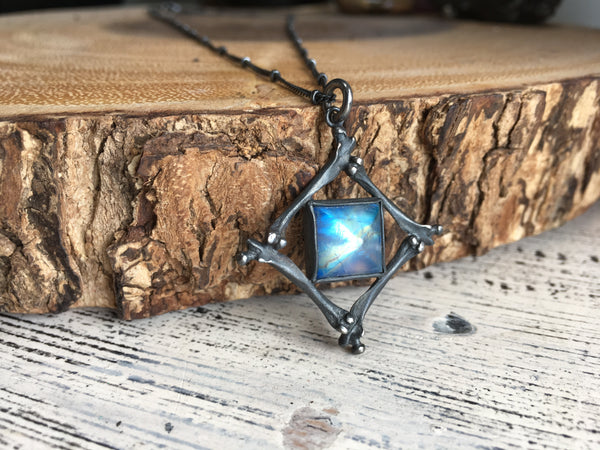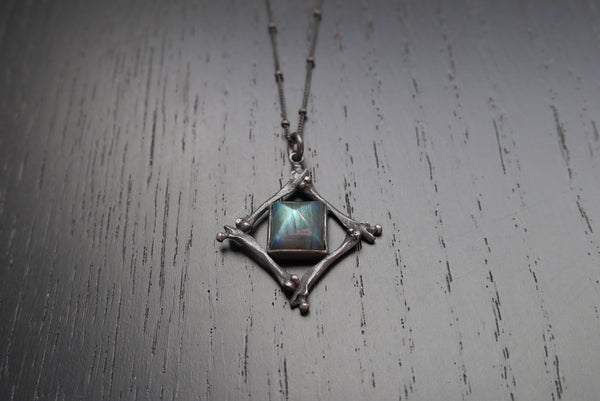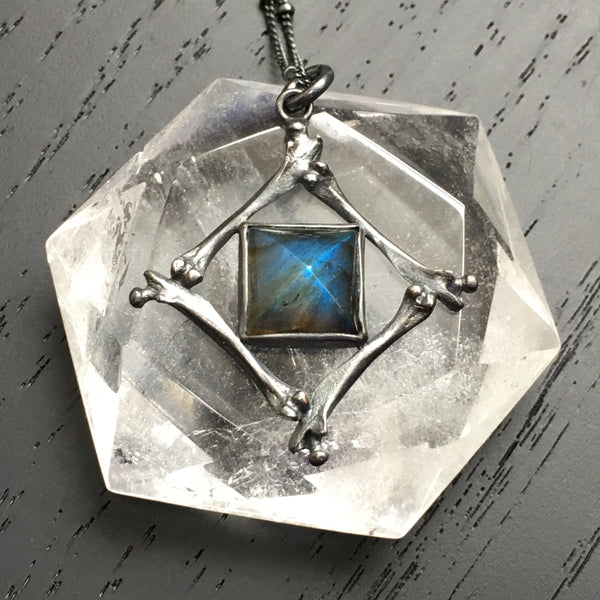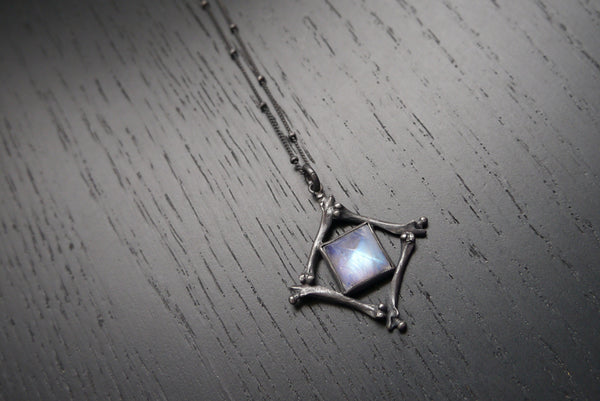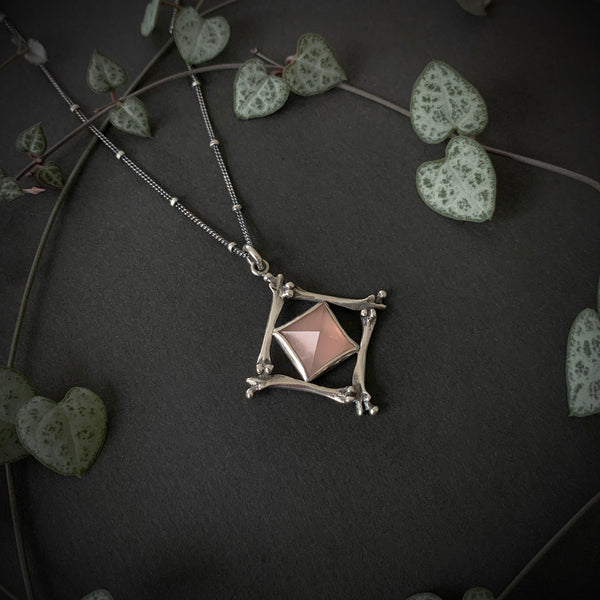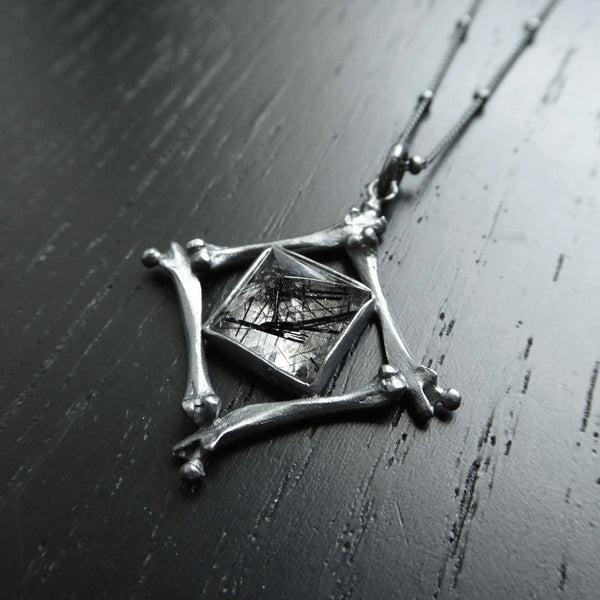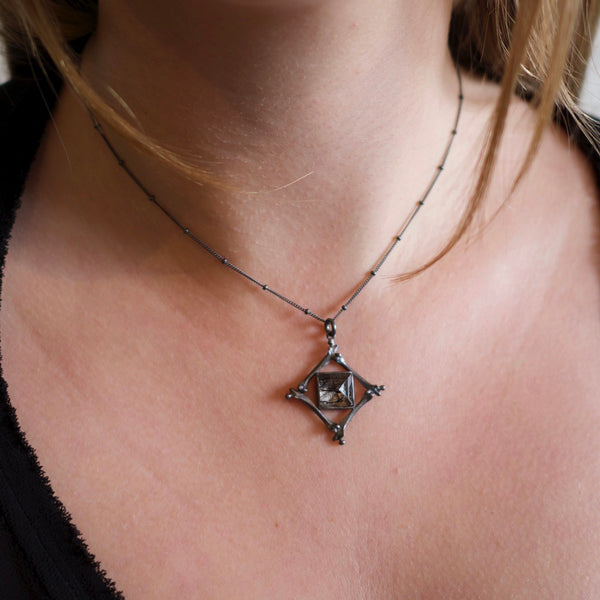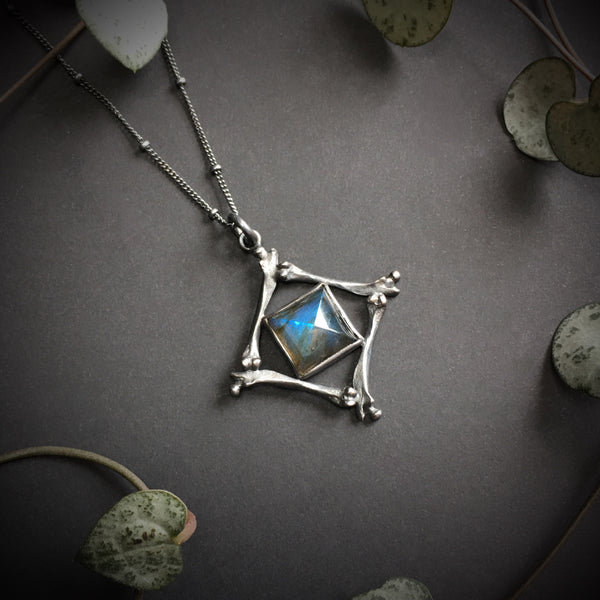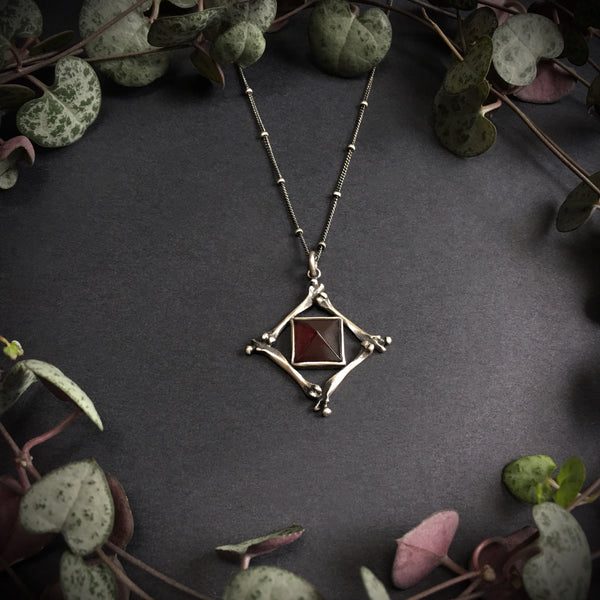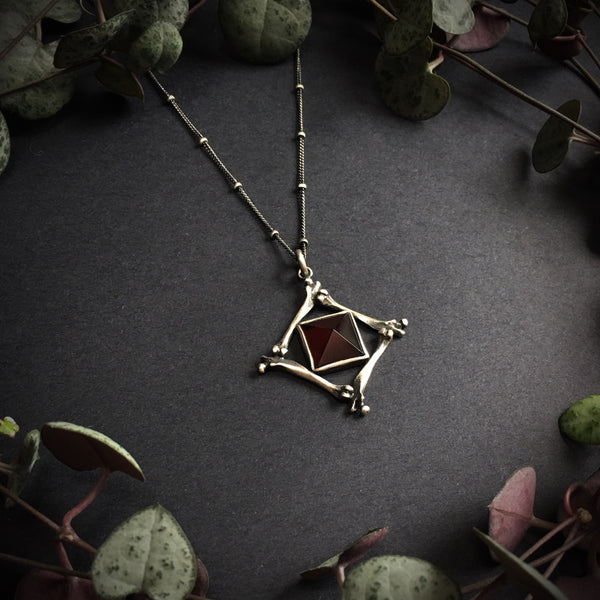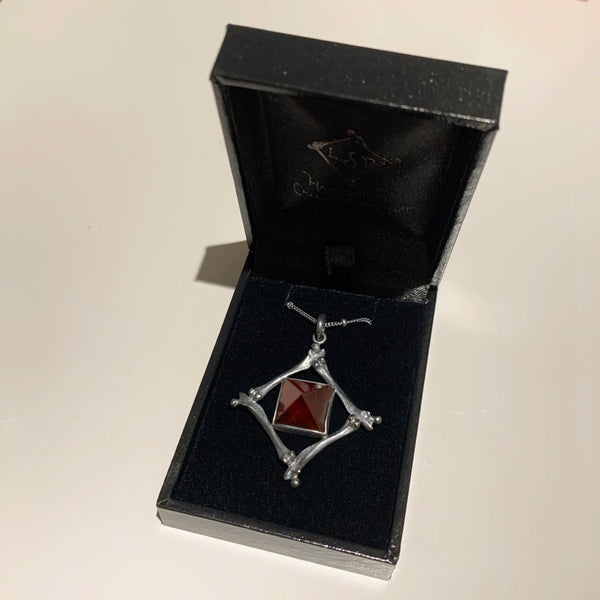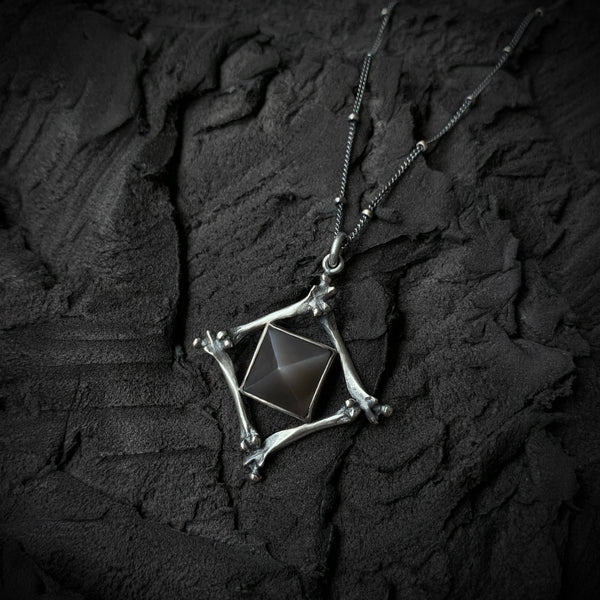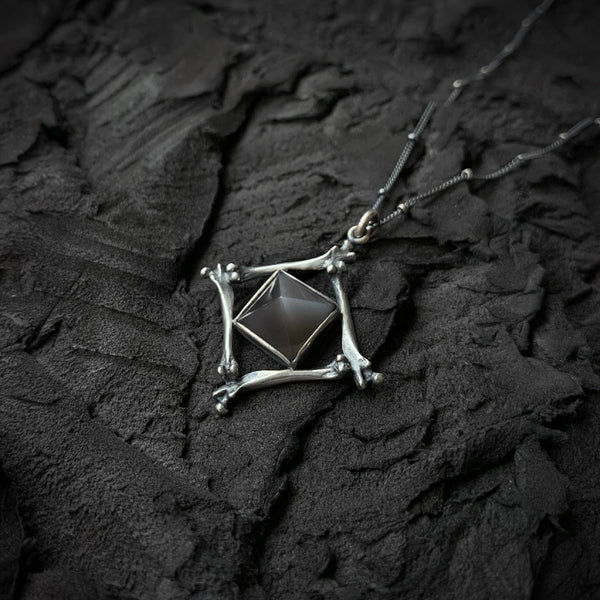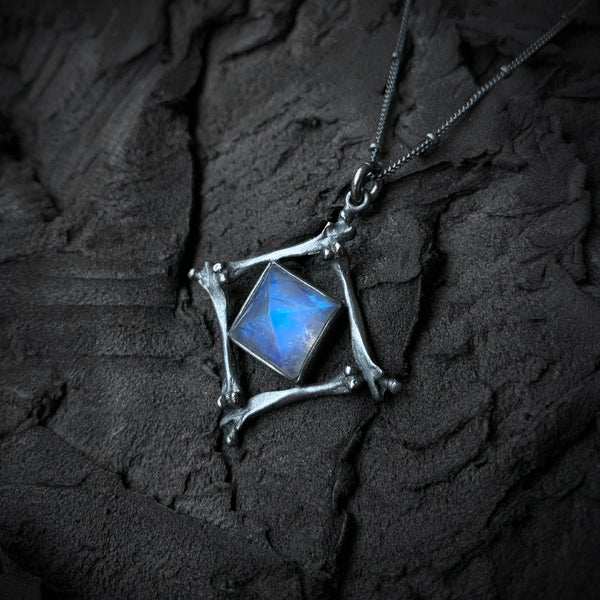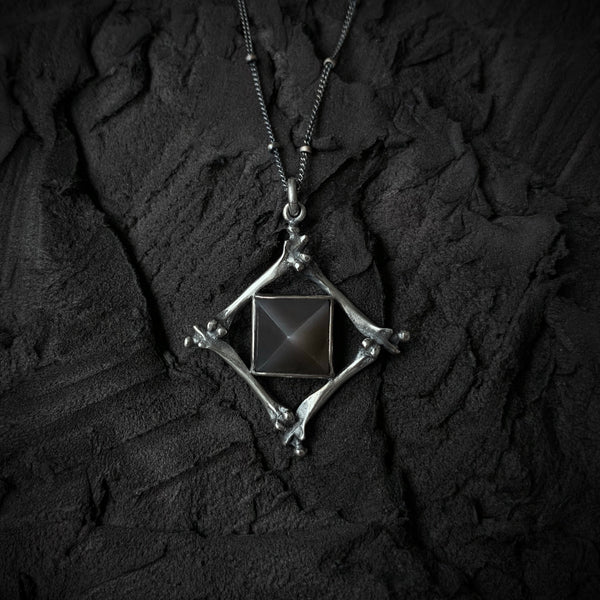 LSD Jewellery
Discontinued - Pharaoh's Tomb Pendant
LAST ONE!
This dainty necklace was inspired by the tomb pyramids of Egypt (The bones circling the pyramid signify the corpses or mummies that were placed inside them)

The necklace is made entirely from sterling silver and a gemstone pyramid (Either Moonstone, Labradorite, Onyx, Garnet, Tourmalinated Quartz and for a limited time Pink Chalcedony ) The bones are cast from real ethically sourced tiny animal bones.

The pendant itself measures 3.3cm wide & tall. It can come in either an oxidised, antique matte or antique polished finish

Please allow me 1-3 weeks to create and send this item.
Stained Glass Window Vibes
AHHH! I can't believe this is one of my favs of my large order. This style is discontinuing, so grab it if you've had your eye on it. I got this in two color ways, Polished/Grey Moonstone and Oxidized/Rainbow Moonstone. While I am a die hard black/neutral girl, I feel head over heels for moonstone. This piece has the vibe of a stained glass window in an old catholic church. Another great piece for everyday while giving that elegant queen look. Always a job. I love Charlotte and her work with my whole heart!
Absolutely beautiful necklace
This necklace is truly gorgeous. I've been wanting this piece for about a year now and I finally purchased it. The little bones are so detailed but are sturdy, and the Tourmalinated quartz is cut wonderfully. Thank you so much!
A piece befitting of Egyptian vampires
This little piece is charming. The chain is subtle but sturdy, the detail of the bones is impeccable, and the little garnet pyramid is a joy to look at. It definitely gives off Egyptian vibes, as well as witchy and vampiric vibes as well. It kind of reminds me of some sort of ancient magical talisman.
Gorgeous! I'm thrilled.
I've wanted one of Charlotte's pieces for ages, but kept hesitating; because of frugality and also my inability to choose! Recently, my grandmother passed away, and shortly before she died, I got my final birthday check from her. She loved beautiful, delicate necklaces, and I could think of nothing better to spend the money on than one of Charlotte's pieces! The timing worked out that I was also about to have excision surgery and a hysterectomy due to endometriosis and chronic pain, so a Pharaoh's Tomb with a moonstone became the obvious choice! I'm 13 days out from surgery, and it feels so auspicious that I just received my necklace in the mail. It's stunning, exactly what I hoped for. I think Grandma Joan would have been pleased. Thank you so, so much, Charlotte! I know I will treasure this piece for years to come, for many reasons.